Grocery Score Rules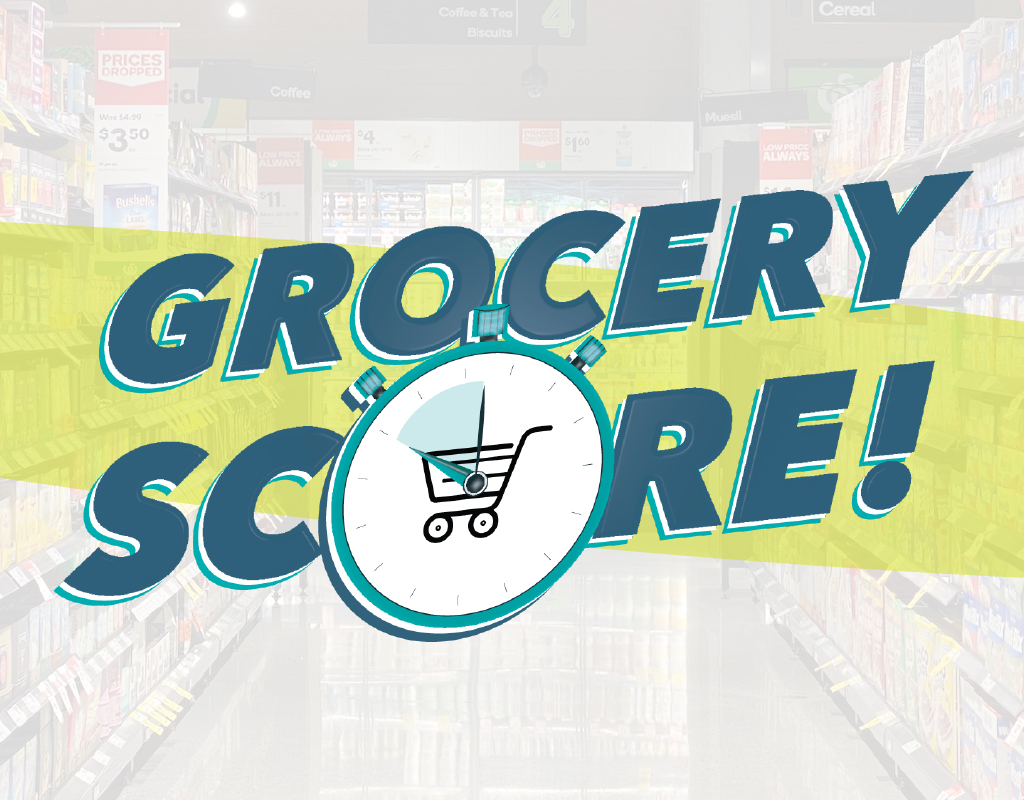 Grocery Score Rules & Information
* No purchase or payment of any kind is necessary to enter or win. Entries are accepted during the promotion runtime of 01.01.24–03.31.24. See Official Rules for ways to enter. Max One hundred fifty (150) entries per member. Fifteen (15) winners will receive a two-minute all-expense paid shopping experience. One winner per branch, per month will be chosen. Winners to be selected each month from entries collected. Entries not drawn for a specific month will automatically be included in the following month(s) drawing. Some restrictions may apply. The credit union reserves the right to change, alter, modify, or cancel this promotion at any time. See credit union for full details and official rules. Horizon Federal Credit Union is federally insured by NCUA. Equal Housing Lender.
Official Rules: Fifteen (15) prizes total will be awarded with a maximum value of $1,000 each. The retail value of the prize will vary and be determined by winners through their event participation. A purchase of any kind will not increase your chances of winning. Must be a legal U.S. resident residing in the United States throughout the promotion period to be eligible to win. Horizon Federal Credit Union may require potential winners to submit proof to determine eligibility as a condition of prize award. The promotion is open to all natural persons who, at the time of entry (a) are eligible for membership with Horizon Federal Credit Union (Live, work, worship or attend school in the eleven counties of Bradford, Centre, Clinton, Columbia, Lycoming, Montour, Northumberland, Potter, Sullivan, Tioga, or Union, you are eligible to join), or (b) are Horizon Federal Credit Union members in good standing, and (c) are at least 18 years of age or older at time of entry. Promotion begins at 9:01:01 a.m. ET on 01.01.24 and ends at 3:59:59 p.m. ET on 03.31.24. Void where prohibited. The odds of winning depend on the total number of eligible entries received. Incomplete or inaccurate entries are void. During the promotional period, there are two ways to enter:
1) Automatic entry for new members and existing members by opening one or more of the products or services listed below:
20 Entries per product, per member:

Rewards Checking with Direct Deposit
1st Mortgage
Auto Loan

10 Entries per product, per member:

Credit Card
Home Equity Loan/Line of Credit
E-Statement Enrollment

5 Entries per product, per member:

Active Horizon Membership
OR
2) Mail-in: Individuals must mail a purple index card with their name, address, email, and phone number; along with a copy of their driver's license to Horizon Federal Credit Union, ATTN: Grocery Score Promotion 2849 Reach Road, Williamsport, PA 17701. Entries must be postmarked by 03.08.24 and received by 03.31.24 to be eligible. Individuals will be awarded one (1) entry per mailer.
For entries to be valid, all accounts or loans must be opened and/or closed and funded between 01.01.24 -03.31.24. To gain 20 points for Rewards checking with direct deposit, first direct deposit but be received prior to 03.31.24. For loan products, loans must be closed prior to 03.31.24. For real estate secured loans, full approval or funding must be gained prior to 03.31.24. Prequalification for any product does not constitute entry or qualification.
Event Details:
Event to be held in April 2024. Dates and specific Weis locations will be posted 30 days prior to the promotion end date. The dates/times will be:
TBD- Will be updated by 03.01.24
Winners, hereby referred to as participants, will receive two minutes to shop at a predetermined Weis Food Stores location.
Winners will have two minutes to load up their carts and get back to the checkout before time runs out.
Prize amounts will be determined by participants and items won during the two-minute shopping experience.
Participants can choose no more than two (2) of any specific item to prevent stores from incurring limited stock.
The following items will be excluded: alcoholic beverages, gift cards, lottery, pharmacy, stamps, money orders, amusement park tickets, and other customer service center transactions.
Only items that have been placed in participant's cart may be subject to purchase or reward. Items that were not placed in their cart and cart returned to checkout prior to the two-minute expiration will not be included.
If a participant and/or cart do not return to check out in the time allotted, awarding the purchase of selected items will be the sole discretion of Horizon Federal Credit Union. Participants must make it back with their one cart to the checkout line to ensure items that were picked will be awarded.
If a situation, questions, or discrepancy occurs that is not outlined in these official rules or event details, decision or ruling will be the sole discretion of Horizon Federal Credit Union.
Participants must sign a Model Release Form.
Participants will be announced via social media or email communications. Potential participants will be notified through an email direct message or at the phone number provided. Only the primary or joint owner, listed as the time of the drawing, is eligible to compete in the Grocery Score. Winners cannot assign a designee to participate on their behalf. Participants agree to hold harmless Horizon Federal Credit Union and Weis Food Stores from any and all injuries, physical or otherwise that might occur during the completion of the two-minute shopping experience. Further, participants agree that participation in a two-minute shopping experience is done under their own will and will conduct themselves in a method that limits damage or injury both to themselves and the grocery location in which they participate. If unable to contact the potential participants or a potential participant is not in compliance with these Official Rules, the prize will be forfeited, and an alternative winner will be selected. Prize(s) not transferrable. If participant is unable or unwilling to participate an alternate participant will be chosen from the remaining entries. Sponsor: Horizon Federal Credit Union 2849 Reach Road Williamsport, PA 17701. The Sponsor is not responsible for the printing of or typographical errors in any Contest-related materials; for stolen, lost, late, misdirected, damaged, incomplete, illegible, or postage-due mail or entries; or for transactions that are processed late or incorrectly or are lost due to computer or electronic malfunction. The Contest Sponsor reserves the right to withdraw or terminate this promotion at any time, without notice. Horizon board members, employees, and their immediate family members are not eligible to win or participate. Promotion details, rules, and requirements are subject to change, modification, or cancellation at any time. Horizon may cancel the promotion at any time, at their discretion.